Complimentary Maintenance at Buick Lakeland
There are so many reasons to choose Buick Lakeland when you're in the market for a new Buick vehicle to enjoy on the roads of Winter Haven. We pride ourselves on earning Buick customers for life, always going the extra mile to ensure an enjoyable, hassle-free car-buying and car ownership experience. That's why every purchase of a new Buick at our dealership comes with 24,000 miles or 24 months of Buick complimentary maintenance! Learn more about this benefit below, and don't hesitate to reach out to our Lakeland Buick service center with any questions.
When Does Buick Complimentary Maintenance Begin?
Buick Lakeland's complimentary scheduled maintenance starts on the date of sale when you purchase your vehicle with us. The plan is active for 24,000 miles or 24 months from the date of sale, whichever comes first*.
When and Where Are You Covered with Buick Lakeland?
Whether you're visiting from Bartow or Brandon, Buick Lakeland's complimentary scheduled maintenance begins as soon as you buy a new Buick. As we noted, you are then covered for 24 months or 24,000 miles. However, if your Buick vehicle is traded, sold, or repossessed before 24 months or 24,000 miles, the plan will automatically terminate. Customers whose plan is terminated for any reason are not eligible for a refund, and the plan does not hold any cash value.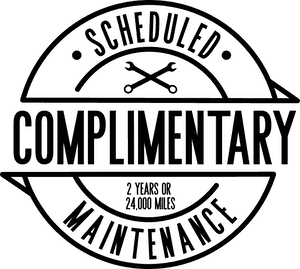 What's Included in Buick Complimentary Maintenance?
When you're ready to visit us for Buick maintenance in Lakeland, what service items are covered under our complimentary maintenance plan? As a Buick Lakeland exclusive, the plan serves only as an agreement between us and our customers who have purchased their new Buick here; it is not intended to act as an extra insurance policy or vehicle warranty. Redeemable only at Buick Lakeland, the scheduled Buick maintenance items that fall under the following intervals are covered:
6-month/7,500-mile maintenance
12-month/15,000-mile maintenance
18-month/22,500-mile maintenance
24-months or up to 24,000-miles maintenance
What is not covered under our Buick complimentary maintenance plan? Any service tasks not included in the aforementioned maintenance intervals. Some examples of items not included would be mechanical breakdown repairs, hoses, brake pads and linings, and wheel alignment and balancing. Buick Lakeland will not reimburse maintenance performed at another Buick dealership, nor loss of time, inconvenience, or other incidental or consequential losses.
Is the Complimentary Maintenance Plan Transferable?
No, if your Buick vehicle is sold to another driver within the 24-month/24,000-mile period, the complimentary maintenance plan is not transferable to that individual. Only the original owner who first purchased the vehicle can be eligible.
Schedule Your Buick Maintenance in Lakeland!
Whether you need assistance finding your ideal new Buick vehicle, or you've recently purchased a new Buick at Buick Lakeland and are preparing for your first complimentary maintenance visit at our Lakeland Buick service center, we are here to help! We provide online service scheduling for your added convenience, as well as Buick service specials you will enjoy when your Buick complimentary maintenance expires. If you have any additional questions, please contact us.
Recent News from Buick Lakeland
If you're looking for a sporty new SUV in the Winter Haven area, you can't go wrong with the latest Buick Envision model. This five-seater midsize SUV is back for the 2023 model year with a spacious interior cabin, impressive performance specs, and plenty of advanced features inside and out. Whether you're making your daily…

The new Buick Enclave is here, and it's a spacious and well-equipped vehicle that could be the ideal choice to upgrade your Winter Haven commute. But one question we often get asked is, "Is the 2023 Buick Enclave fuel-efficient?" A full-size SUV with three rows of seating that can accommodate up to seven and powered…

The 2023 Buick Enclave interior offers Lakeland drivers a luxurious cabin packed with premium features and elegant materials. What's inside the 2023 Buick Enclave interior sets the stage for what to expect from a premium three-row SUV. You'll appreciate the 97.4 cubic feet of cargo room; space for the whole family, your gear, and…